When I hit the first set of boulders about 15 minutes in, I had no idea how much this hike would put my bouldering skills to the test.  The Waterfall Trail in Tsitsikamma National Park is a combination of hiking, bouldering, coasteering, and the occasional swim if you don't watch your footing. It's rated difficult for good reason. But what a beauty! It's one of those hikes that make you want to stop and take a picture – all the time.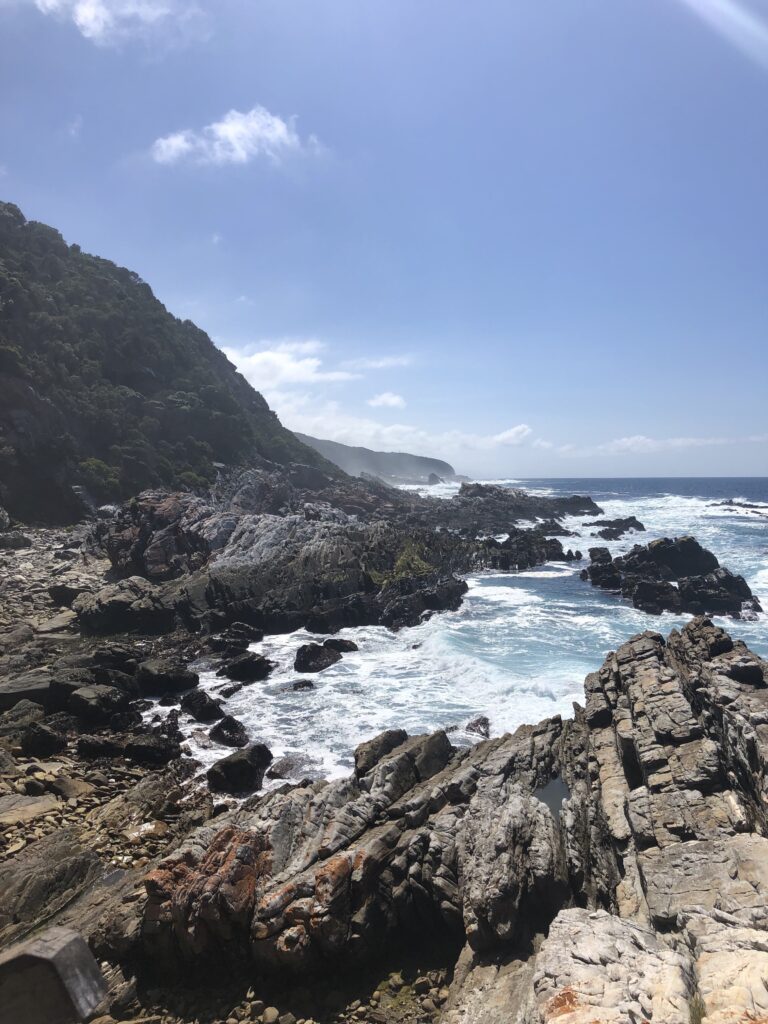 Tsitsikamma National Park is part of the Eastern Cape Nature Preserve on the Garden Route of South Africa. I hit it in prime season – the Christmas holidays in December. Even though the parking lots were packed and the campsites fully booked in the park, there was still plenty of wild to discover without crowds. Since I only had 2 days in the park, I opted for a day hiking the first 3 kilometers of the world renowned Otter Trail.
The Otter Trail runs along the spectacular coastline between the Storms River mouth and Nature's Valley. Opened in 1968, it's considered one of the finest multi day trails in the world. I wish I'd had time to hike the entire trail but I had to settle for just a portion of its awe inspiring beauty. (I'll be back!)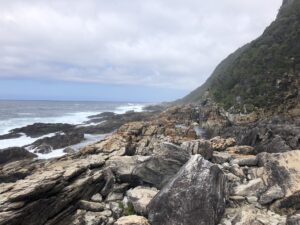 This wildly spectacular stretch of coastline and mountains is located on the Garden Route in the Western and Eastern Cape of South Africa. It's a relatively new park established in 2009. But what it lacks in size and history, it more than makes up for in eye-popping scenery and animal life.
The Garden Route National Park system strings together several parklands along the southern coast, connecting forest to sea and includes a made for National Geographic list of wildlife. Deeper inland you'll find elephants, bushbuk, and elands. In the coastal forest, it's a birders paradise of exotic ducks, geese, and raptors like the African Cuckoohawk and Crowned Eagle.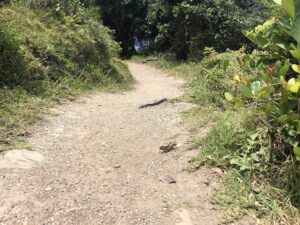 The seaside hosts a diversity of fish and reptiles. A couple of those reptiles include something that might (or shall I say should) strike fear (or at least caution) into you – Cape cobras and puff adders. You can be sure I kept my eyes peeled for any hint of them along the trail. Thankfully, I only saw this giant grasshopper.
The exotic diversity of wildlife added to the feeling that, despite the jaw dropping scenery and fairly close proximity to the local camp store, I was definitely in the wild. Add some baboons, notoriously known for stealing your stuff – sometimes right off you – and this trail was firmly put into adventure category for me.
Because of the trail's location in a tidal zone and the difficulty in following the marks on the rocks in shifting currents and low light – the park recommends you start no later than mid afternoon. If you're not fit, afraid of heights or not game for a hard scramble across boulders that look large enough to seem like a giant's playground – I would suggest another hike in the park (and there are plenty).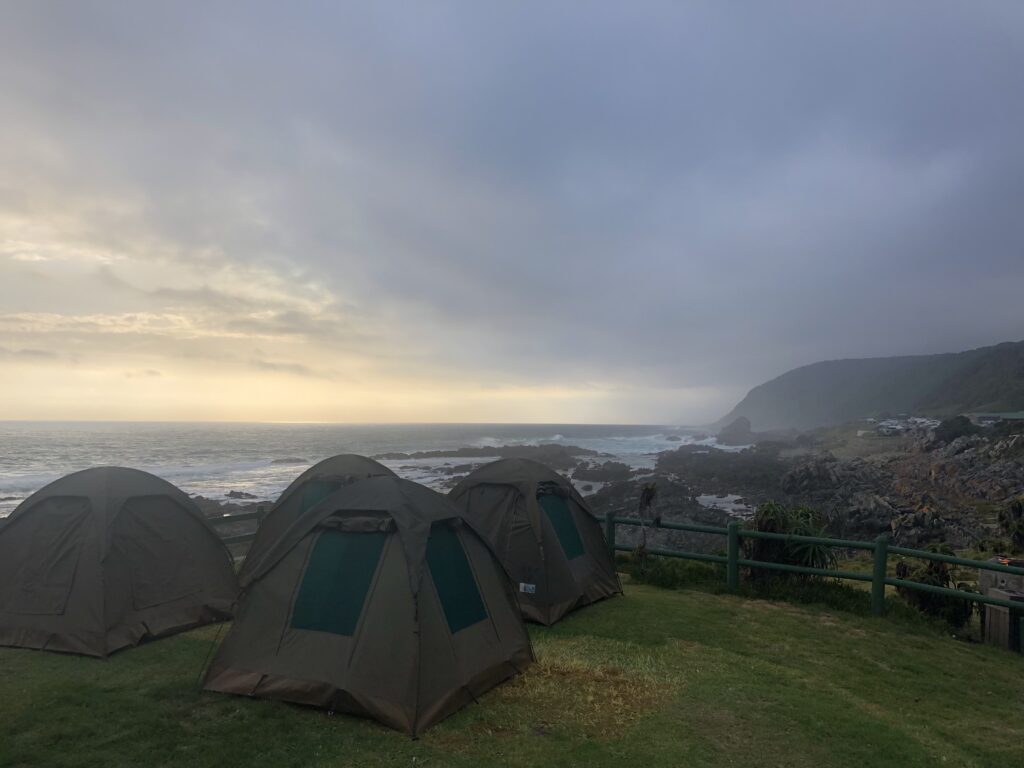 The hike starts from the parking lot of Stormsriver Mouth camping and cabins. From our campsite it was about a 20 minute walk to the trailhead. I was traveling with Intrepid on a 15 day tour from Durban to Cape Town. It was a bit like backpacking but with a giant overland vehicle well suited for a small army. I can definitely recommend it if you want to see a lot and don't want to negotiate your own itinerary.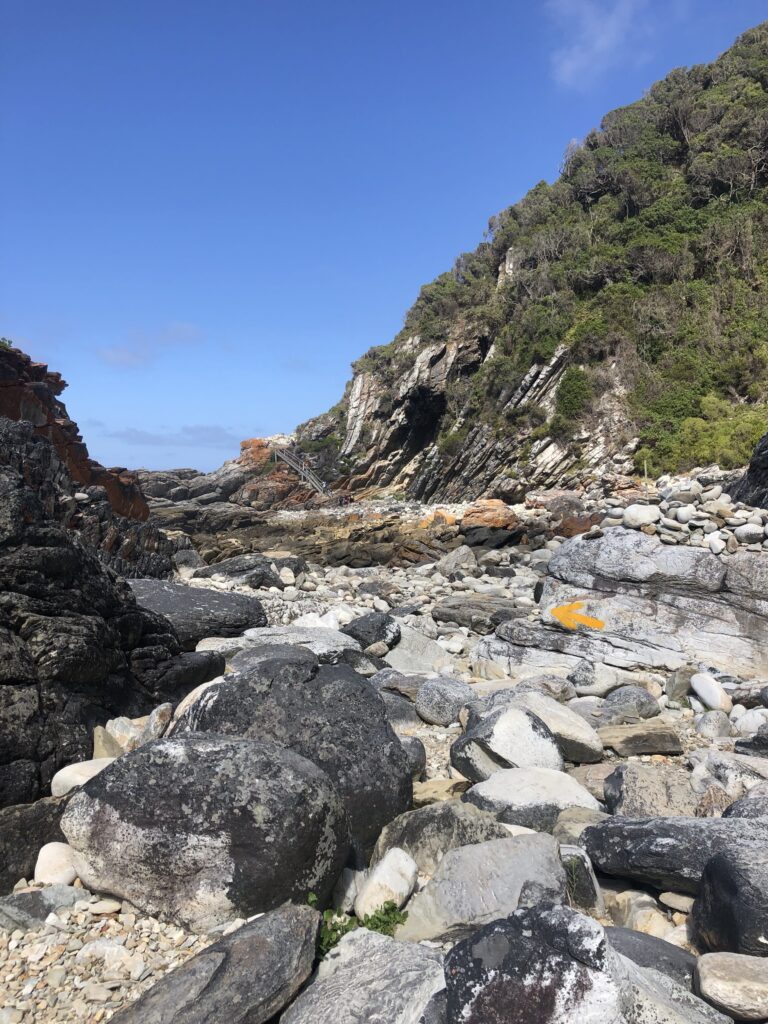 The trail is well marked but you will have to pay close attention after the dirt path ends. It's not long before the trail turns into full on boulder hopping and scrambling. Climbing between the huge boulders and rock formations is a full body workout. Scrambling your way up and over and then hopping between crevices feels less like hiking and more like the gym. But an awesome gym!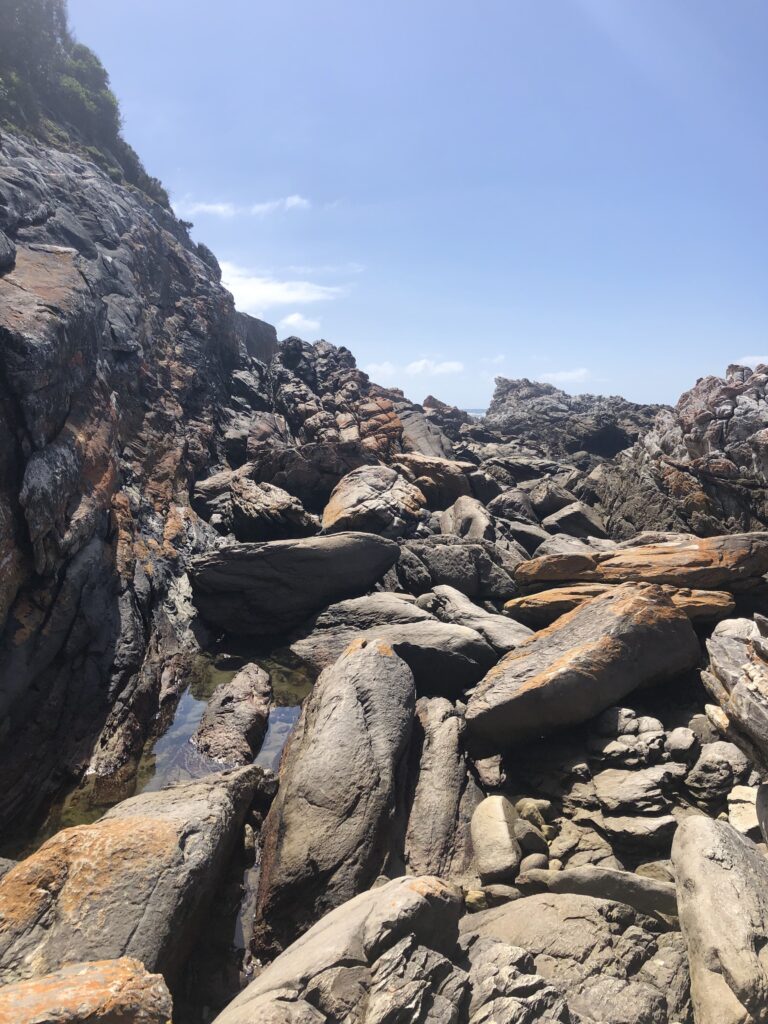 Painted arrows mark the trail through the boulders. However, in many sections you're dropped into a maze of boulders below the trail and can easily lose your sense of direction if you don't pay attention.
This trail was unlike anything I'd done before. The difficulty wasn't in the amount of mileage (it's only 6.4 rt), but in the amount of concentration you have to maintain in order to work your way through the puzzle of rocks safely. While the trail had a few steep parts with dropoffs before you get to the boulders, luckily, my hike in Drakensberg – the ultimate scary cliff hike – made them seem much less frightening in comparison.
In between bouldering from giant rock to rock, the dazzling seas and stunning scenery kept me gobsmacked with its beauty the entire time. Along the way, there are many spots to sit and have a break off the trail. If you're lucky enough to be there during whaling season, you'll want to bring your binoculars and admire this prime calving ground. South Africa is considered one of the best destinations worldwide for watching marine mammals.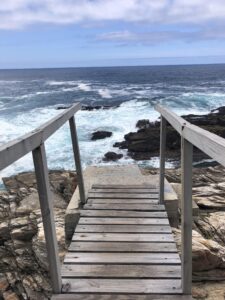 On this stretch of coastline, you'll find Southern Rights from June to November, humpbacks between May and December, Bryde's whales (Orcas) all year round – and, occasionally, killer whales. Bottlenose and humpback dolphins are in residence all year round. So there's always something to see out in the water. I was treated to more than one pod of dolphins frolicking just offshore.
One thing I didn't see on my hike – puff adders or cobras. Yeah! This may be the one wildlife I'd rather see at a zoo. Thank you. But although I didn't see them on the trail, we were warned as soon as we came into the park to be cautious on walks, especially at night since puff adders are nocturnal. I made sure I didn't have to do any nighttime toilet runs without a good flashlight.
The other wonderful yet cranky nuisance in the park and on the trail are baboons. These guys are wicked smart. They're also used to humans. So you need to be extra vigilant about your pack. Keep an eye on it when you take it off. Also, don't try to tease them in closer with food for the best Instagram because you might regret it. These guys are cheeky opportunists. Don't be a victim of a stolen lunch or worse.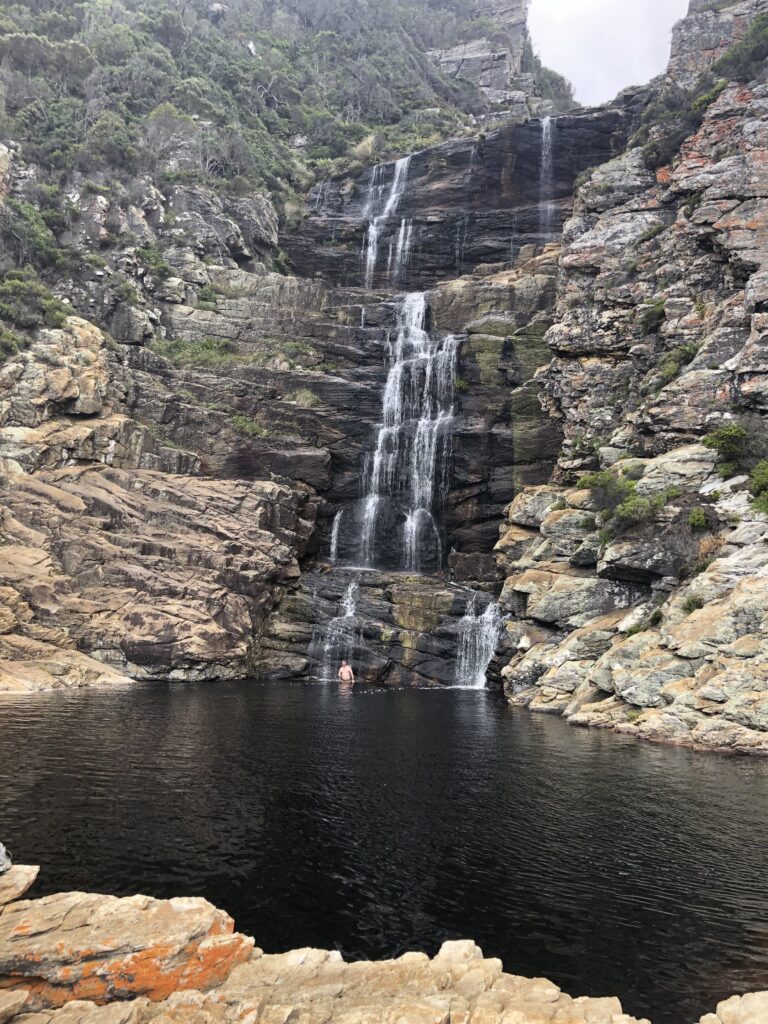 Your reward is at the end of the hike. The Waterfall cascades off a high cliff over several ledges into a deep pool. It's perfect for swimming but bracingly cool. Directly opposite the waterfall is the ocean. The plunge pool is separated by a row of boulders giving you ample choice of  lunch spots and swimming platforms.
You could easily spend the whole day here but you'll want to be sure to get back through the boulders well before dark. I found it a bit harder to follow the trail markings on the way back and was glad I could remember some of the biggest landmark boulders with the trickiest scrambles near the waterfall.
My only regret? I wish I'd worn my swimsuit. Next time!
What about you? Have you hiked Tsitsikamma? Found a perfect waterfall? I'd love to hear your hiking stories.